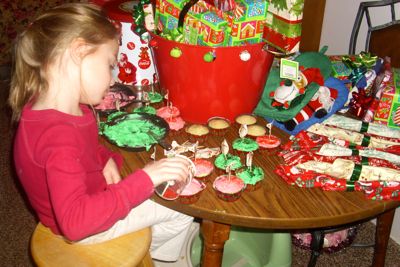 Cupcakes!
We started with a package of Betty Crocker's Gluten-Free Cake Mix. Used shortening instead of butter and used holiday cupcake liners – making 18 cupcakes.
Frosting: 1/3 cup shortening, 2 cups powdered sugar, 1/8 tsp salt, 1/2 tsp vanilla and 2-3 Tbsp rice or soy milk. Mix till it's creamy.
Joscelyn frosted the cupcakes and topped them with red and green sugar sprinkles.
Our tummies are loving these!