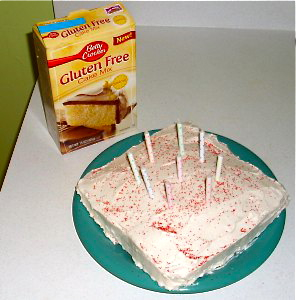 My daughter's birthday is today. I helped her 5-year-old make her a regular birthday cake and didn't want to be left out, so bought a Betty Crocker gluten-free mix. These come in both yellow and chocolate. They mix as easy as regular mixes and are just one 8×8 pan full with the baking time about the same as a regular cake mix.
Betty Crocker's gluten-free mix is also casein-free, if you substitute the butter for oil or shortening. For a casein-free frosting recipe I use:
2 cups powdered sugar
1/3 cup shortening
1 tsp vanilla
1/8 tsp salt
2 Tbsp soy milk
Mix together until creamy and spread over cooled cake.