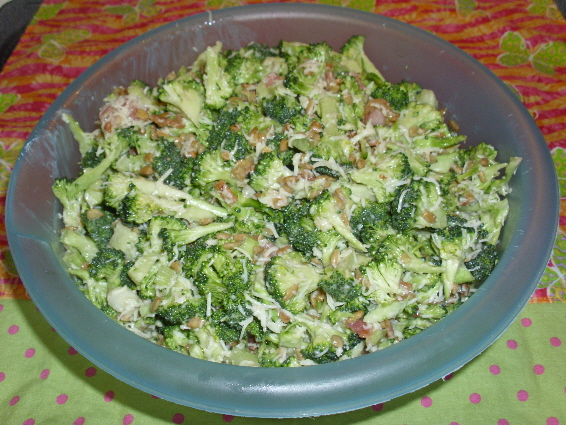 My niece Stef introduced us to this recipe, and it is a family favorite. It makes a large bowl, the perfect size for family functions or picnics. For the casein-free version, just leave out the cheese. It will still taste delicious!
Broccoli Salad – by Stefanie Bohin
4 bunches broccoli cut into small pieces
1 bunch green onions, diced
1 package bacon, cooked and crumbled
8 oz. shredded mozzarella cheese (omit for the casein-free version)
1 pkg or 1/2 cup sunflower seeds
1/3 cup cider vinegar
1 1/2 cups mayonnaise
1/2 cup sugar (I use organic brown sugar)
Combine broccoli, onions, bacon, cheese and seeds in large bowl. Mix vinegar, mayonnaise and sugar. Pour over broccoli mix. Chill.