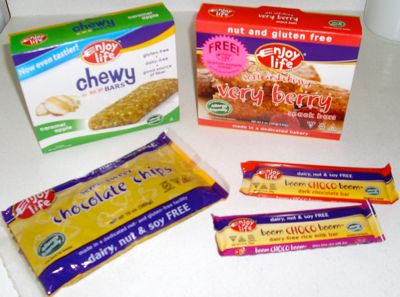 I am SO happy to find these Enjoy Life products at my local Walmart! They are located in the gluten-free section, at the end of the baking isle. In the past, I have found the semi-sweet chocolate chips at health food stores. You can find stores near you at their website, using their store locator.
Enjoy Life products are made in a dedicated nut and gluten-free facility, and are also dairy and soy free. They have cookies, snacks, granola and bagels… but my favorite is their chocolate!
I have LOVED using these chocolate chips, since they are dairy-free. I use these chips in my cookies and brownie recipes. They are absolutely delicious! And now I have tried both of these boom CHOCO boom bars – the dark chocolate and the dairy-free milk bar, made with rice milk. I think I may be hooked on chocolate again!
Visit their website for more information, plus a .55 coupon at www.enjoylifefoods.com