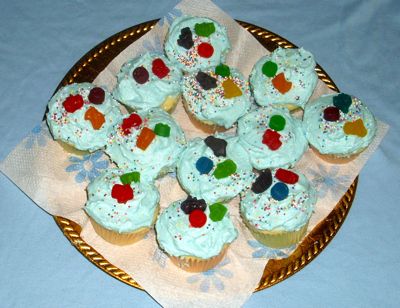 Cupcakes are always a fun treat for you little ones and you! It's easy to make then gluten and casein free with a Betty Crocker gluten-free cake mix, plus your own frosting!
I use the cake mix, substituting the butter with Crisco. I make 12 cupcakes instead of the suggested 18. For my frosting recipe I use:
2 cups powdered sugar
1/3 cup Crisco
1 tsp vanilla
2 Tbsp rice milk (you can use soy or almond milk)
1/8 tsp salt
I add food coloring for a fun touch!
Just mix together to make the frosting light and fluffy!
When cupcakes have cooled, frost and decorate, using sprinkles, marshmallows, or fruit snacks! Get creative! Your child will LOVE these cup cakes! Enjoy!