This time of year I am SO in the mood for fruit crisps and cobblers. I thought I'd use individual ramekins for a fun, new way to serve my family dessert. Peaches are in season and so delicious! I used some tasty toppings to create this new peach crisp. It was a hit with my family, and my daughter said, "Mom, this is the BEST crisp you've ever made!" I have to admit it tasted heavenly and mine was gobbled up fast! The grandkids loved having their own dessert.
To begin I skinned and chunked 5 large peaches, placing them in a medium bowl. I squeezed the juice of one lemon over them then tossed. I added 2 tablespoons honey, ¼ cup brown sugar and ½ teaspoon vanilla then stirred the ingredients in. I divided the peaches into 6 ramekins.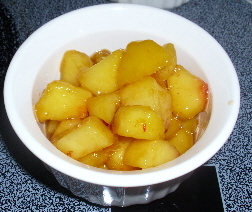 I set the oven to 350 degrees. In a separate bowl I added ¾ cup almond meal/flour, ¼ cup millet flour, ¼ cup brown rice flour, ½ cup GF oats, ½ cup brown sugar, ½ cup sugar, ¼ teaspoon salt, 1 ¼ sticks butter cut into slices (shortening may be used) and ½ cup raw cashews. I used a pastry cutter ( you may use a food processor and pulse) to get a crumbly mixture. I used a small measuirng cup to carefully add the topping mixture to the fruit, carefully packing it into the peaches. I added more until each ramekin had a heaping amount, then placed them on a foil-lined baking sheet.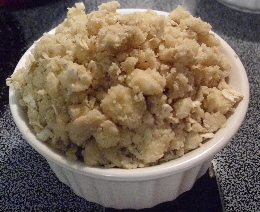 I baked mine for 30 minutes until tops were golden and bubbly.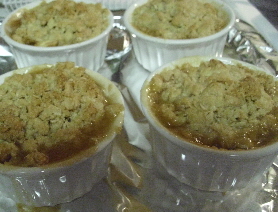 I served warm, topped with vanilla ice cream. (I used Breyer's Lactose Free Ice Cream. You may use regular ice cream or Soy Dream.)
My family will definitely be having this again soon!
Get the recipe: Favorite Peach Crisp