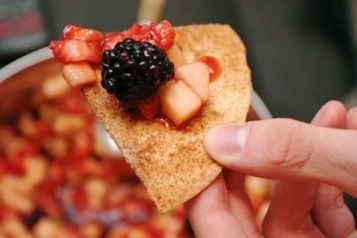 This is a great way to get kids to eat fruit. Adults, too!
Cinnamon Chips
4 7-inch corn tortillas
1 tablespoon sugar
1/2 teaspoon cinnamon
Salsa
2 Granny Smith apples
1 cup berries
1 kiwifruit
1 small orange
2 tablespoon brown sugar
2 tablespoon apple jelly
Preheat oven to 400 degrees. Lightly spray tortillas with water. In shaker combine sugar and cinnamon; sprinkle over tortillas. Cut tortillas into 8 wedges. Spray cookie sheet with cooking spray. Arrange tortillas in single layer. Bake 8 to 10 minutes or until lightly browned.
Peel, core and chop apples. Slice berries. Chop kiwifruit. Put fruit in 1-quart bowl. In a separate bowl, zest orange then juice. Add brown sugar and apple butter and stir together. Mix gently into fruit. Serve with cinnamon chips.