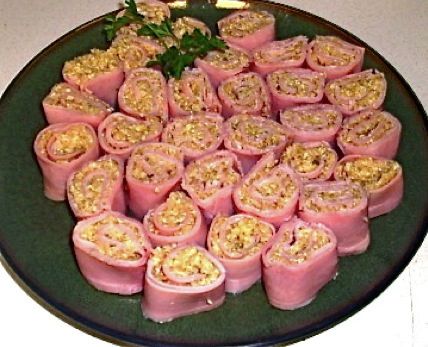 Meat wraps can be served hot for dinner or cold for picnics and parties!  Quinoa is a seed that has a fluffy, slightly crunchy texture and somewhat nutty flavor when cooked. I have enjoyed making foods using quinoa, and can't wait to eat it as soon as I have prepared a dish!
2 cups water
1 cup quinoa
1/3 cup Kraft mayonnaise
1 tablespoon Dijon mustard
1/2 teaspoon celery salt
1/2 teaspoon dill weed
1 clove garlic, finely chopped
8 ham slices
8 turkey slices
Bring water to a boil. Stir in quinoa and cover with a lid. Turn burner to low and simmer 15 minutes. Take off burner and let set 5 minutes. Fluff with a fork.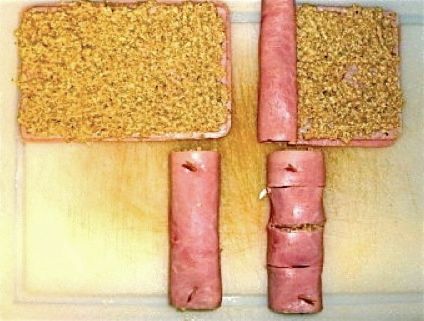 Divide quinoa into two. Place halves in bowls, putting one in fridge to cool. In small bowl, mix together mayonnaise, Dijon mustard, celery salt, dill weed, and garlic. Add mix to the warm quinoa. Stir well. Flatten top and score into 8 sections. On a clean surface, lay out ham slices, topped with turkey slices. Scoop each section of quinoa onto meat slices. Roll up and hold with two toothpicks. Slice each roll into four. Set on platter or in baking pan, sprayed with oil. For cold meat wraps, cover with plastic and place in fridge. For hot wraps, place them in baking dish and bake at 350 degrees for 20 minutes.