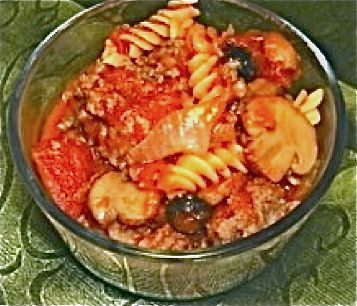 It's not Hungarian Goulash, but my daughter gets hungry whenever she smells my goulash cooking.
1 pound ground beef
1 pound sausage (I use Jimmy Dean's Regular)
1 onion, chopped
3 cloves garlic, chopped
1 package gluten-free pasta
1 green pepper, chopped
1 yellow squash, sliced
6 mushrooms, sliced
1 can sliced olives
2 teaspoons salt
1/2 teaspoon pepper
1 (28 ounce) can diced tomatoes
1 (28 ounce) can tomato sauce
In frying pan, brown ground beef and sausage with onion and garlic.
Prepare pasta as directed. Boil 7 minutes.
Drain meat and pasta. In large pan combine pasta, meat, green pepper, squash, mushrooms, olives, tomatoes and sauce. Heat through on medium heat, about ten minutes, stirring often so bottom doesn't burn.
Serve with fruit or a veggie salad.