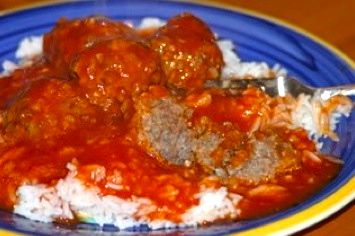 2 pounds lean ground beef
1 cup uncooked long-grain rice
1 cup water
1/2 cup dry minced onion
2 teaspoons salt
1/4 teaspoon pepper
26-ounce can Hunts Spaghetti Sauce (any flavor) with one cup water added
Preheat oven to 375 degrees. In large mixing bowl combine ground beef, 1 cup water, minced onion, salt and pepper. Mix well. Shape the mixture, using a tablespoon, into 1 1/2-inch meatballs. Place meatballs in large baking dish. Mix spaghetti sauce with one cup water and pour over meatballs. Cover with lid or aluminum foil. Bake for 45 minutes. Uncover. Bake for 15 minutes longer.
Serves 6 – 8.
Serving suggestion: Serve over rice.