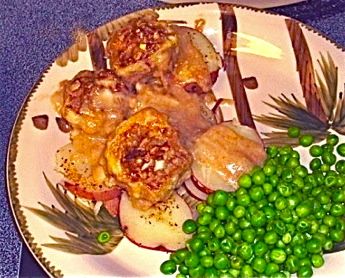 I LOVE Swedish Meatballs!
2-1/2 pounds red potatoes with skin, sliced
1/2 pound lean ground beef
1/2 pound sausage (I use Jimmy Dean's Regular)
1 small onion, diced
2 cloves garlic, minced
4 mushrooms, diced
2 tablespoons fresh parsley, chopped
2 tablespoons olive oil
2 egg whites
1 cup gluten-free oats
1 teaspoon salt
1/2 teaspoon pepper
1 cup rice milk
1/4 cup almond meal/flour
2 tablespoons corn starch
1 heaping teaspoon Knorr's
Caldo de Res bouillon
1 teaspoon Mrs. Dash
The potatoes are steamed in this recipe, so you will need a pot and a vegetable rack. Fill the pot with water to just under the vegetable rack. Place potatoes on top of rack, cover and bring water to a boil. Turn heat to medium and cook for about 15-20 minutes, until potatoes are tender. Drain, then sprinkle with Mrs. Dash.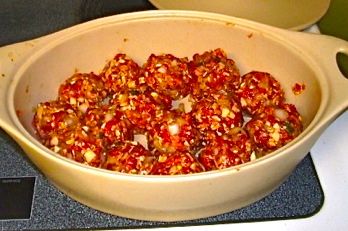 Heat oven to 375 degrees. In mixing bowl, combine ground beef, sausage, onion, garlic, parsley, olive oil, egg whites, oats, salt and pepper. Mix well with a mixing spoon. Form meatballs about 1-1/2 inches in diameter. Spray baking dish with olive oil then add meatballs. Bake 15 minutes.
In small bowl, whisk together rice milk, almond meal, corn starch and bouillon. When meatballs have baked 15 minutes, remove from oven and pour milk mixture over them. Return to oven and bake for 15 minutes. When done, serve over cooked red potatoes.