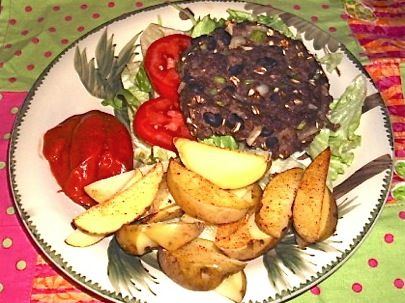 This is a tasty way of having a healthy burger!
1 pound lean ground beef
1/2 cup canned black beans, drained and rinsed
1/2 cup onion, chopped
1/2 green pepper, chopped
1/2 cup gluten free oats
3 cloves garlic, minced
1 teaspoon chili powder
1/2 teaspoon cumin
1 teaspoon salt
1 egg
1 tablespoon hot sauce
In mixing bowl add ground beef, black beans, onion, green pepper, oats, garlic, chili powder, cumin, salt, egg and hot sauce. Mix well. Divide into 4 or 5 portions and mold meat into patties. Place on roasting rack, and bake for 20 minutes.
Serve with Roasted Yellow Potato Wedges and spicy ketchup, made by whisking together 1/2 cup ketchup and 1 tablespoon horseradish sauce.