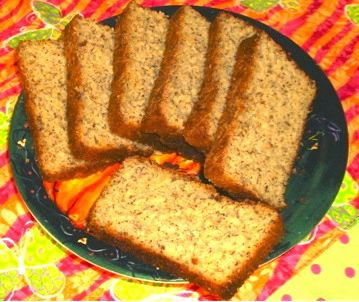 This bread has great whole grain texture and that the whole family will love!
1/2 cup brown rice flour
1/2 cup millet flour
1/2 cup quinoa flour
1/4 cup rice bran
1/4 cup Bob's Red Mill Creamy Rice
1/4 cup flax seed meal
2 teaspoon yeast
1/2 teaspoon salt
1 tablespoon guar gum
2 eggs, beaten
1 teaspoon cider vinegar
1/4 cup canola oil
1/2 cup orange juice
1/2 cup pear juice
Preheat oven to 350 degrees. Grease bread pan with shortening. Whisk dry ingredients together. Heat juices in microwave until very warm. In separate bowl, whisk wet ingredients together. Combine and mix well. Put plastic wrap and dishtowel over bowl with dough. Rise in warm area for one hour. Spoon dough into bread pan. Use plastic wrap on fingers dipped in shortening to smooth top of dough. Cover with plastic wrap and dishtowel and rise one hour. Bake for 30 to 35 minutes. Remove from oven and brush top with shortening. Remove from pan and cool on a wire rack. Bread slices better when cool.