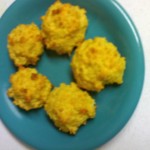 1 cup brown rice flour
1/2 cup millet flour
1/2 cup quinoa flour
1 Tbsp baking powder
1 cup finely grated cheese
3 eggs
1 Tbsp olive oil
3 Tbsp milk
In bowl whisk flours and baking powder. Add cheese. In small bowl beat eggs; add olive oil and milk; stir. Add to dry ingredients. Mix well with fork.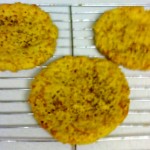 For drop biscuits – add a little milk to make dough wetter. Spray sheet with canola oil. Drop dough with spoon or hands. Bake 375 for 10 – 12 minutes.
For individual pizza crusts – spray small flat bowl (about 3″ to 4″) with canola oil. Shape dough into crusts creating a small raised edge on the outside. Use knife to loosen and place pizza crusts on pan. Sprinkle crusts with Italian seasoning. Bake 374 for 10 – 12 minutes. (These can be stored in the freezer for future use.)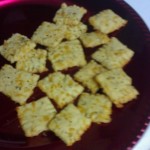 For crackers – use wax paper sprayed with canola oil. Roll out dough about 1/4 inch thick. Cut with knife or cutters. Place on pan sprayed with canola oil. Add garlic powder and Italian seasoning. Press fork lightly on edge for scalloped look. Bake 375 for 10 minutes.