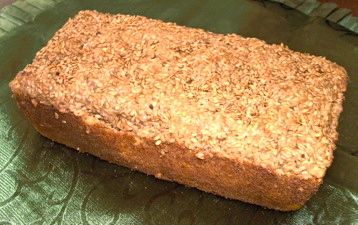 1/2 cup gluten-free all-purpose baking flour
1/2 cup millet flour
1/2 cup brown rice flour
1/2 cup quinoa flour
1/4 cup creamy rice (hot cereal)
1/4 cup rice bran
2 teaspoons yeast
1/2 teaspoon salt
1 tablespoon guar gum
2 eggs, beaten
1 teaspoon cider vinegar
1/4 cup canola oil
1/2 cup white grape juice
1/2 cup apple juice
1/4 cup golden flax seeds (or sesame seeds)
Whisk dry ingredients in a bowl. In mixing bowl add eggs, vinegar and oil. Heat juices in microwave until very warm. Mix with other wet ingredients. Add dry ingredients and mix well. Rise dough in mixing bowl in warm area, covered with plastic wrap and a dishtowel for one hour. Grease bread pan with shortening – the bottom and about one inch up. Stir dough and pour into bread pan. Replace plastic wrap and dishtowel. Watch dough about 1/2 hour, to make sure it doesn't overflow pan. Bake in 350 degree oven for 30 minutes. Cool pan on rack for 10 minutes, then cut the sides loose with a knife and remove bread from pan to finish cooling. Wait until bread is completely cool before slicing.