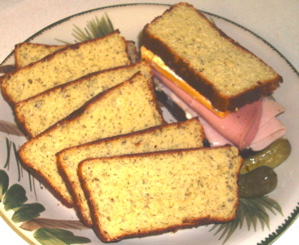 3 cups gluten-free all purpose flour
1 Tbsp brown rice flour
1 Tbsp millet flour (any three GF flours can be used)
2 Tbsp sugar
1 Tbsp plus 1 tsp guar gum
2 tsp active dry yeast
3/4 tsp salt
1 1/2 tsp dill weed
1 tsp basil
1-1/2 cups warm milk (cow, rice, soy or nut)
3/4 cup whole egg (must measure 3/4 cup)
1/4 cup canola oil
1 tsp apple cider vinegar
In bowl, add dry ingredients (first 9). Whisk until thoroughly blended. In mixing bowl add wet ingredients. Whisk until very smooth. Add dry ingredients 1/4 of mix at a time. Use spatula to make sure all dry ingredients get mixed.
Remove bowl from mixer. Cover with plastic wrap and a dish towel. Place in a warm area for one hour. (I use the top of my stove or sunlight.) After 1 hour, mix dough with a spoon. Divide into two big greased bread pans. Cover with plastic wrap and dish towel. Raise in pans 1 hour.
Bake at 350 degrees for 30 minutes. Check color of loaf and add baking time if a darker color is desired.
Cool pans on wire rack 10 minutes. Remove bread and cool on wire rack. Wait until loaf is cool before cutting. Loafs cut well with serrated knife. Cut second loaf and keep in fridge or freezer. Each loaf is about 14 or 15 slices.