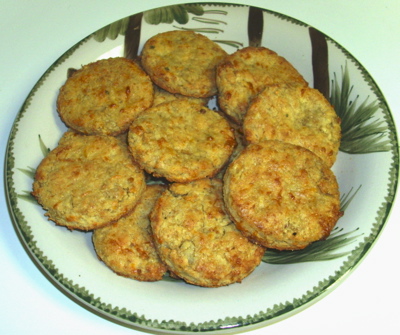 I just LOVE the Cheddar Bay Biscuits at Red Lobster, but wanted my biscuit to include CRAB – my favorite!
3/4 cup gluten-free flour
1/2 cup potato flour
1/2 cup tapioca flour
1/2 t salt
1/2 t baking soda
1/2 t guar gum
3 Tbsp shortening or butter
1/2 cup sour cream
1 egg
1/2 cup well-chopped crab meat (imitation crab has gluten, use crab claw meat)
1/4 cup butter
1/2 t garlic salt
1/4 t onion salt
In mixing bowl add dry ingredients: the three gluten-free flours, salt, baking soda, and guar gum. Sift or stir well. Add shortening, sour cream, egg and crab meat. These ingredients need to be mixed well, so you may use a pastry cutter, or a mixer. When well mixed, use your hands to form the dough into a ball and place it on waxed paper. Flatten the ball and then roll with a rolling pin to about 3/4 inches. Cut circles of dough with a round cookie cutter or a glass. Place on a well-greased cookie sheet. Bake at 450 degrees about 10 minutes. Makes about 12 biscuits.
Melt the butter and stir in the garlic and onion salts. When biscuits are done, brush them with the butter and cool. Serve fresh. (Because of the crab meat, do not leave leftovers out – they need to be refrigerated.)