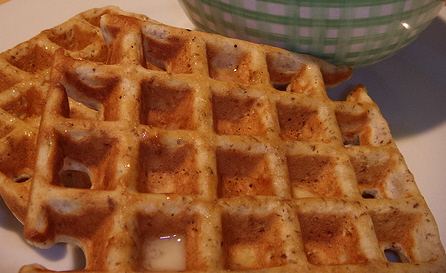 1 cup GF all purpose flour
1/2 cup brown rice flour
1/2 cup millet flour
2 Tbsp flaxseeds
1 Tbsp baking powder
1/4 cup sugar
1 tsp salt
1 1/4 cups orange juice
2 eggs, separated
2 Tbsp canola oil
Whisk together flours, flaxseeds, baking powder, sugar and salt. In separate bowl, whisk orange juice, egg yolks and oil. Beat egg whites until they begin to stiffen. Combine and blend flour mixture and wet mixture. Fold in beaten egg whites. Bake in waffle maker.
Serving Suggestion: Serve with sausage or bacon and fruit.