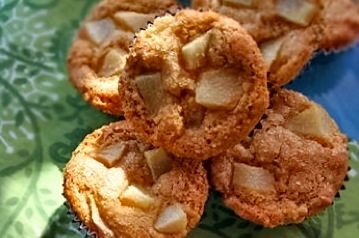 2 cups peeled, cored and diced ripe pears
3/4 cup cornmeal
3/4 cup brown rice flour
1/4 cup millet flour
1 teaspoon salt
1 tablespoon baking powder
1 teaspoon cinnamon
1/4 cup extra virgin olive oil
1 soft ripe banana, mashed
1/2 cup rice or almond milk
3/4 cup brown sugar
1 tablespoon vanilla
sugar
Preheat oven to 350 degrees. Line twelve muffin tins with liners. In a large bowl combine dry ingredients: cornmeal, rice flour, tapioca starch/flour, salt, baking powder and cinnamon. Whisk with a fork to blend. In a separate bowl beat olive oil with the mashed banana until well blended. Add sugar and vanilla; beat until smooth. Add the wet mixture into the dry ingredients and beat lightly until well blended. The batter should be like a thick muffin batter (not as thin as a cake batter). If your batter is stiff, add a Tbsp of rice milk. If it's thin, add a Tbsp of rice flour.
Stir in pears. Drop the batter into muffin cups by spoonfuls. Distribute among the twelve evenly. (They look nice with a few pieces of pear sticking out of the tops.) Sprinkle with a dusting of sugar. Bake in a preheated oven for 20 to 25 minutes until muffins are firm to the touch on top. Set pan on a wire rack for a couple of minutes, then remove muffins from the pan. Continue cooling muffins on the wire rack.