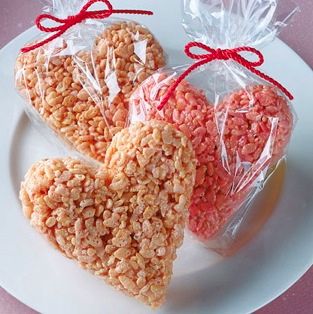 You can have the same crispy rice treats made with gluten-free brown rice cereal! Use this recipe to make delicious creations for holiday and special days.
1 cube butter
1 10.5-ounce package marshmallows
6 cups gluten-free brown rice cereal
food coloring
Tear a large sheet of wax paper before preparing. In pan, melt butter and marshmallows over low heat. Add a few drops food coloring to desired color. Slowly add the brown rice cereal and stir thoroughly, then spread onto waxed paper. Smooth and flatten to desired thickness with buttered fingers, or waxed paper dipped in butter. Use cookie cutters to make shapes.
For gifts, place in baggies and tie with ribbon.