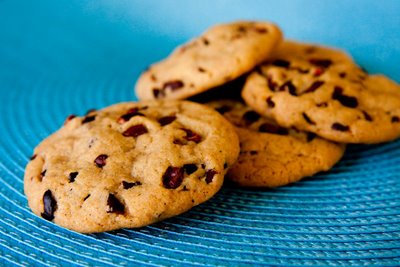 The all-time favorite treat for kids. And Mom and Dad!
3/4 cup shortening
1-1/4 cups brown sugar
1/4 cup white sugar
1 teaspoon vanilla
2 eggs
2-1/4 cups gluten-free all purpose flour
1 teaspoon baking soda
1 teaspoon baking powder
1 teaspoon salt
1 12-ounce package Ghirardelli semi-sweet chocolate chips
Preheat oven to 375 degrees. Grease baking sheet. In mixing bowl cream butter and sugar. Add eggs and vanilla. Sift dry ingredients together in separate bowl: gluten-free flour, baking soda, baking powder and salt. Gradually add to other mixture until well blended. Using a teaspoon, drop cookies 2 inches apart on baking sheet. Bake in preheated oven about 6 to 8 minutes until light brown. Let cookies cool before removing to wire racks.