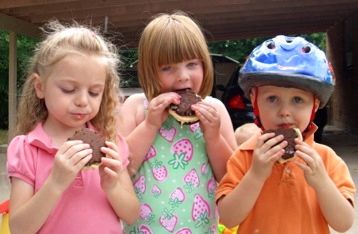 Everybody will want to eat gluten-free and casein-free after they taste this scrumptious treat!
1/2 cup shortening
1 cup sugar
1 egg
3/4 cup soy milk
1 teaspoon vanilla
1/2 cup millet flour
1/2 cup soy flour
1/2 cup potato flour
1/2 teaspoon guar gum
1/2 teaspoon salt
1/2 teaspoon soda
1/2 cup cocoa
Preheat oven to 375 degrees. Mix together shortening, sugar, egg, soy milk and vanilla. Add dry ingredients one at a time. Grease 2 cookie pans with shortening. Make 1-1/2 inch dough balls and place on cookie sheet. Press balls with a flat glass. Bake for 8 to 10 minutes.
For ice cream sandwiches, put soy ice cream in between two cookies. (I used Soy Dream French Vanilla.)