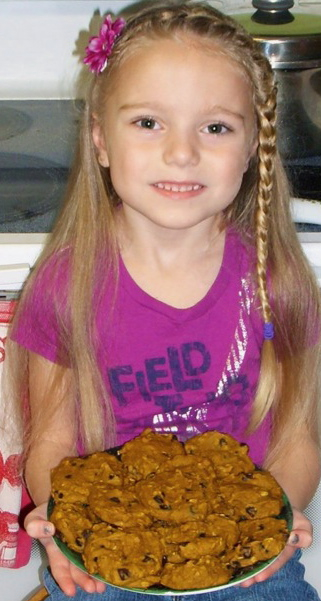 1 29-ounce can pumpkin
2 eggs
1 teaspoon vanilla
3/4 cup sugar
3/4 cup brown sugar
1 cup gluten-free oats
1 teaspoon baking soda
1 teaspoon baking powder
1 teaspoon guar gum
1/2 teaspoon nutmeg
1 teaspoon cinnamon
1 cup millet flour
1 cup quinoa flour
1 10-ounce bag Enjoy Life Chocolate Chips
Preheat oven to 375 degrees. Mix together pumpkin, eggs, vanilla and sugars. Add oats, baking soda, baking powder, guar gum, nutmeg and cinnamon. Mix in flours. Add chocolate chips and stir well. Spray cookie sheets with non-stick spray. Spoon batter onto cookie sheet and flatten. Bake for 15 minutes.