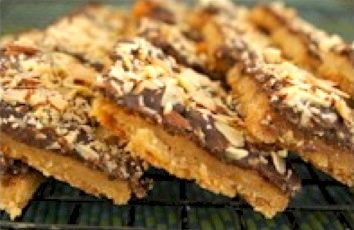 1/2 cup white sugar
1/2 cup brown sugar
1 cup butter
1 egg yolk
1 teaspoon vanilla
1 cup gluten-free all purpose flour
1 cup rice flour
1 teaspoon guar gum
1 6-ounce package milk chocolate chips
1/2 cup chopped walnuts
Cream together sugars, butter, egg yolk and vanilla. Add flours and guar gum. Spread into a well greased and floured jelly roll pan (or large cookie sheet with sides). Bake at 375 for 20 minutes, or until golden brown. Remove from oven. Sprinkle with chocolate chips. Let melt 5 minutes, then spread. Sprinkle with nuts. Set in a cool place. When chocolate has firmed, cut into squares.