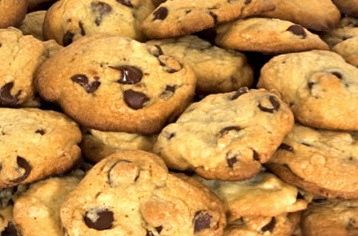 These are great-tasting chocolate chip cookies! The peanut butter
adds a nice texture but you don't notice a peanut butter flavor.
This recipe can be made casein-free!
1/2 cup butter (use shortening with 1/8 tsp salt for casein-free cookies)
3/4 cup peanut butter
1 egg
1/2 cup sugar
1/2 cup brown sugar
1/2 tsp baking powder
1/2 tsp baking soda
1 cup rice flour
1/4 cup tapioca flour/starch
1 bag or 2 cups chocolate chips (I use Enjoy Life brand for casein-free)
Put ingredients in mixing bowl in order listed, except for chocolate chips. Mix well, then stir in chocolate chips. Form dough into 1-inch balls and place on greased cookie sheet. Bake at 350 degrees 12-15 minutes, or until slightly brown.
Makes about 2 dozen cookies.