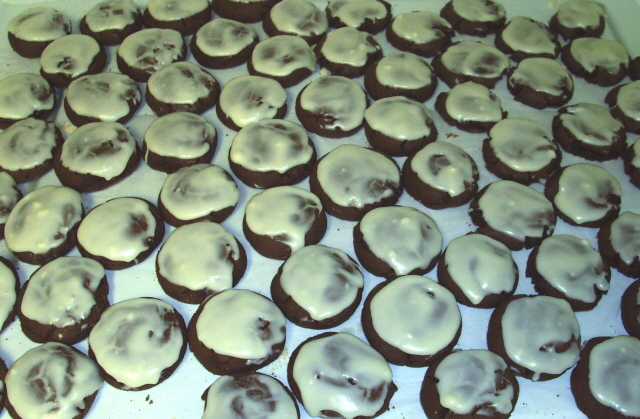 1/2 cup shortening
1 cup sugar
1 egg
3/4 cup milk
1 teaspoon vanilla
1/2 teaspoon guar gum
1/2 teaspoons baking soda
1/2 teaspoon salt
1/2 cup cocoa
1/2 cup millet flour
1/2 cup soy flour
1/2 cup rice flour
Heat oven to 375 degrees. Mix together shortening, sugar, egg, milk and vanilla. Add dry ingredients one at a time. Sprinkle two cookie sheets with millet flour. Make 1 inch dough balls by rolling in your hands. On cookie sheet, press somewhat flat with the bottom of a glass. Bake for 8 minutes. When cool add icing.
Butter Icing
2 cups powdered sugar
1/2 cup butter, melted
1/2 teaspoon vanilla
3 tablespoon milk
Place ingredients in bowl. Mix with beaters or wire whisk. Spreads easier on cookies with the back of a spoon.