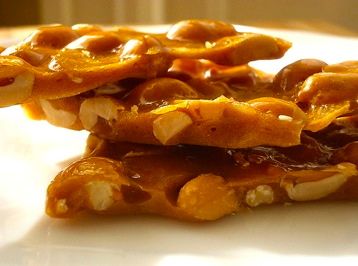 I have wonderful memories of being a little girl, shelling peanuts for my Mom's Christmas-time peanut brittle!
2 cups sugar
1 cup light Karo syrup
1/2 cup water
2 cups peanuts
1 teaspoon vanilla
1 tablespoon butter
2 scant teaspoon soda
Cook the first three ingredients to softball stage on a candy thermometer. Add peanuts. Continue to cook and stir until candy becomes golden brown. Be careful not to burn it. Remove from heat. Add vanilla, butter and soda and stir. Spread candy out on a buttered cookie sheet. Let it cool, then crack it into pieces.