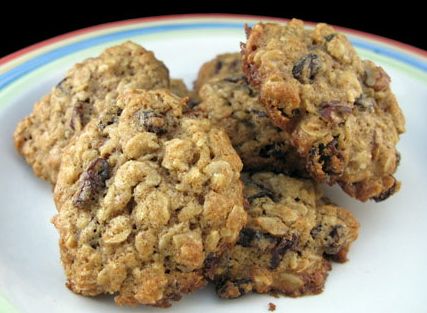 I was SO EXCITED to make these, after I bought gluten-free oats!
1 cup butter, softened
1 cup brown sugar
1/2 cup white sugar
2 eggs
1 teaspoon vanilla
Mix well in mixing bowl.
1-1/2 cups gluten-free flour (1/2 cup of three different gluten-free flours)
3 cups gluten-free oats
1 teaspoon guar gum
1 teaspoon baking soda
1/2 teaspoon salt
1 teaspoon cinnamon
Use spatula on sides to get dry ingredients well mixed in. Add one cup raisins OR chocolate chips, and 1/2 cup chopped walnuts (optional). Mix well. Drop by spoonfuls onto greased cookie sheets. Bake at 350 degrees about 10-12 minutes.
For kids on a dairy free diet, use shortening instead of butter. Bake 2-5 minutes less time.