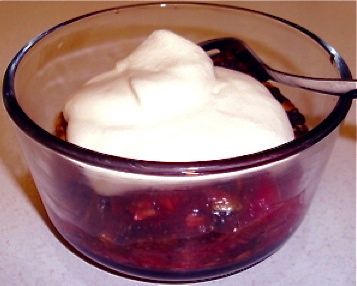 1 large can cherry pie filling
1/2 cup white sugar
1 cup gluten-free flour
1/2 cup almond meal/flour
1 cup gluten-free oats
2 teaspoons baking soda
1/2 teaspoon salt
1 cube butter (use 1/2 cup shortening and 1/8 teaspoon salt for casein-free)
Pour pie filling into a 9×13-inch glass baking pan. Whisk sugar, flours, oats, soda, and salt until thoroughly mixed. Pour dry ingredients over cherries. Cut cube of butter into thin slices and cover top of dry ingredients. Bake at 350 degrees for about 30 minutes until golden brown.
Prepare whipped cream: In mixing bowl add whipping cream, 1/3 cup sugar, and 1 tsp vanilla. Mix on slow speed for 2 minutes. Whip on high speed until stiff peaks are formed.
If eating casein-free, cobbler is delicious without whipped topping.