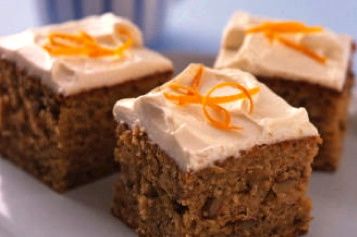 Cake
2 cups sugar
1 cup gluten-free all purpose flour
1/2 cup gluten-free oat flour
1/2 cup rice flour
1 teaspoon guar gum
1 teaspoon salt
2-1/2 teaspoons cinnamon
1 teaspoon ground clove
1/2 teaspoon ground allspice
1-1/2 teaspoon baking soda
1-1/2 cups canola oil
4 eggs
3-1/2 cups carrots, peeled and grated
1 cup chopped walnuts
Preheat oven to 350 degrees. In large mixing bowl combine sugar, flours, guar gum, salt, spices and baking soda. Add oil to the dry ingredients and mix well. Add eggs; beat in one at a time. Once the batter is mixed, stir in carrots and walnuts. Pour into a greased 9×13-inch pan and bake at 350 degrees 60-70 minutes, or until golden brown. Once cake has cooled, frost with cream cheese frosting. Garnish with chopped walnuts or grated orange peel.
Cream Cheese Frosting
4 3-ounce packages cream cheese
1 cube butter
1-2/3 cups powdered sugar
1 teaspoon vanilla
1 tablespoon lemon juice
Beat cream cheese and butter on high until smooth. Add powdered sugar. Continue on high until the lumps have all dissolved. Finally, beat in vanilla and lemon juice on low speed until frosting is completely mixed.