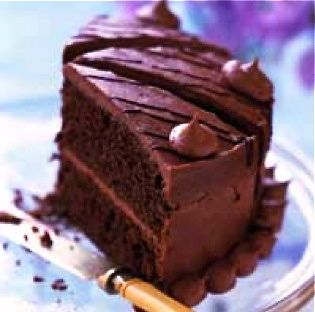 1 cup gluten-free all purpose flour
1 cup gluten-free oat flour
1/4 cup rice flour
1 teaspoon guar gum
1/2 cup cocoa
1-1/2 teaspoons baking powder
1 teaspoon baking soda
1/2 teaspoon cinnamon
1/4 teaspoon salt
1/2 cup shortening
1/2 cup sugar
1 teaspoon vanilla
3 eggs
1-1/3 cups cold water
1/3 cup semisweet chocolate chips
1 tablespoon butter
1/4 cup whipping cream
1 teaspoon white Karo syrup
1 8-ounce package cream cheese, softened
1 cube butter, softened
2 teaspoons vanilla
6-1/2 cups powdered sugar
1/3 cup cocoa
1 to 2 tablespoons milk
Preheat oven to 350 degrees. Cut wax paper to fit two 9-inch round cake pans. Grease and add wax paper; set pans aside. Stir together flours, guar gum, cocoa, baking powder, baking soda, cinnamon, and salt; set aside.
In a large mixing bowl beat the shortening with an electric mixer on medium to high speed for 30 seconds. Add sugar and 1 teaspoon vanilla; beat until well combined. Add eggs, one at a time, beating well after each. Add the dry mixture and water alternately to beaten mixture, mixing on low speed after each addition just until combined. Spoon batter into prepared pans, spreading evenly. Bake 35-40 minutes or until a wooden toothpick inserted near the center comes out clean. Cool on wire rack for 10 minutes. Remove from pans. Cool cake thoroughly on wire racks.
Glaze
In a heavy saucepan, combine chocolate chips and butter over low heat, stirring constantly until chocolate begins to melt. Immediately remove from heat, stir until smooth. Set aside. In another saucepan, stir together whipping cream and corn syrup. Bring mixture to gentle boil. Reduce heat. Cook, uncovered, for 2 minutes. Remove from heat. Stir in chocolate mixture. Cool to room temperature.
Frosting
Beat together the cream cheese, butter, and 2 teaspoons vanilla until light and fluffy. Gradually add 2 cups sifted powdered sugar and cocoa, beating well. Gradually beat in remaining powdered sugar until smooth. Beat in milk if needed, to reach spreading consistency.

To Assemble
Frost top of one layer with frosting and place 2nd layer on top of it. Frost top and sides, reserving 1 cup of frosting. Drizzle with glaze. If desired, fill a pastry bag with reserved frosting and attach a large round tip. Pipe chocolate "drops" on top and around base of cake. Cover and chill to store. Makes 12 to 16 servings.