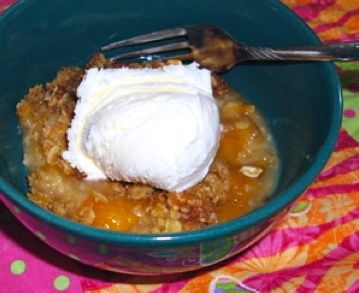 My family loves cobbler on a Sunday night together!
1 pound can apricots
1 cup brown sugar
1 cup gluten-free flour (I use 1/3 cup of three different gluten-free flours)
1 cup gluten-free oats
2 teaspoons baking powder
1/2 teaspoon salt
1/2 teaspoon cinnamon
1 cube butter
Pour apricots, including juice, into glass 9×13 pan. Cut apricots into 4 pieces. Mix dry ingredients well, using a wire whisk. Pour dry ingredients evenly over apricots and juice. Cut a cube of butter into thin slices and place over cobbler.
Bake at 350 degrees for 30 – 35 minutes, until top is golden brown.
Serve warm with scoop of vanilla ice cream.