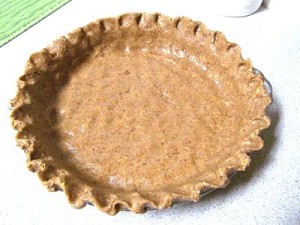 For pie crust:
1 cup fresh ground almond butter
1 cup GF oat flour (you can grind your oats to make flour)
3 Tablespoons ground flax
½ cup raw honey
1 teaspoon cinnamon
½ teaspoon salt
1 Tablespoon softened virgin coconut oil
Grease round pie dish (I use coconut oil). Preheat oven to 350 degrees. Add all ingredients in a bowl and mix. It should soon form a ball. Use hands to press into pie dish. Push edges a little above the rim then crimp edges with thumb and fingers. Prick the base with a fork several times.  Bake for 12 minutes. Cool on rack.
For pumpkin filling: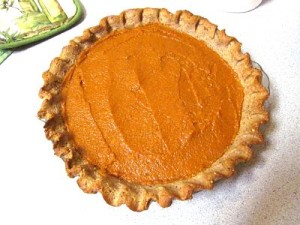 2 ¼ cups canned pumpkin (not pie filling)
½ cup raw brown sugar
1 Tablespoon softened or extra virgin coconut oil
¼ cup unsweetened almond milk
¼ cup agave maple syrup (or pure maple syrup)
3 Tablespoons cornstarch
2 teaspoons vanilla extract
2 teaspoons cinnamon
½ teaspoon ground ginger
½ teaspoon nutmeg
pinch of ground cloves (I have a tiny measuring spoon that says "a pinch")
Combine all ingredients in a bowl. Mix well. Scoop into cooled crust and smooth. Cover edges of crust with foil so the edge doesn't burn. Bake 350 degrees for 50 – 55 minutes. Cool on rack for one hour.  Place pie in fridge overnight. Do not slice pie until it has set overnight.