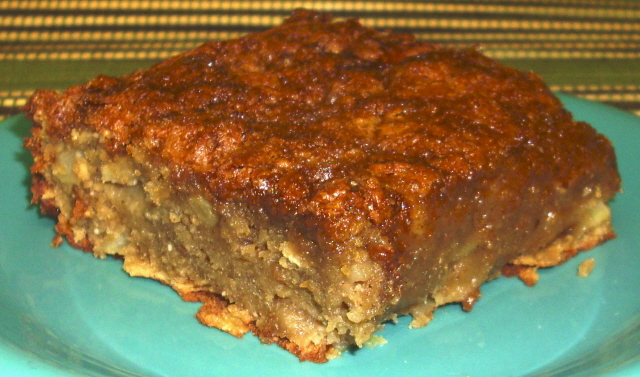 My family LOVES this moist and tasty cake!
Cake
1 cube plus 2 tablespoons butter
1-1/2 cups brown sugar
2 eggs
1 cup sour cream
1 teaspoon vanilla
3 green apples, peeled and chopped
1 cup gluten-free all purpose cooking flour
1/2 cup gluten-free soy flour
1/2 cup gluten-free rice flour (any three gluten-free flours can be used)
1 cup gluten-free oats
1 teaspoon guar gum
1 teaspoon baking soda
1 teaspoon cinnamon
1/2 teaspoon salt
Mix butter, brown sugar, eggs, sour cream, vanilla and apples. Add dry ingredients one at a time until well blended, scraping sides with spatula.  Pour into 13×9-inch pan and spread smooth. Make brown sugar topping.
Brown Sugar Topping
?1/2 cup brown sugar
1/2 cup gluten-free flour
1/2 teaspoon cinnamon
4 tablespoons butter, softened
Mix with wire whip until blended. Spread over top of cake. Bake at 350 degrees until golden brown 35-40 minutes. Set cake on wire rack. Make brown sugar glaze.
Brown Sugar Glaze
1/4 cup brown sugar
1 Tbsp hot water
Mix sugar and water in small bowl. Drizzle over top of warm cake.
Serve warm with whipped cream!