This recipe can also be made Casein-Free!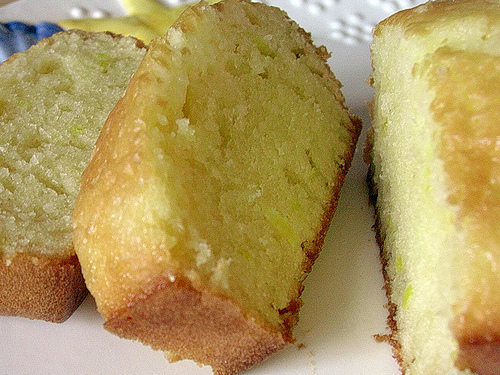 2 sticks unsalted butter, at room temperature
2 cups sugar
1/3 cup grated lemon zest
4 eggs, at room temperature
1 cup rice flour
1 cup soy flour
1 cup millet flour (you can replace these flours with any gluten-free flours)
1 teaspoon guar gum
1/2 teaspoon baking powder
1/2 teaspoon baking soda
1/2 teaspoon salt
1/4 cup fresh squeezed lemon juice
3/4 cup milk (can use soy, nut or rice milk for casein-free)
1 teaspoon vanilla
For syrup:
1/2 cup sugar
1/2 cup freshly squeezed lemon juice
Preheat oven to 350 degrees. Butter and flour(with GF flour) two loaf pans. Sift together the flour, guar gum, baking powder, baking soda, and salt. Set aside dry ingredients. Combine lemon juice, milk, and vanilla extract in a small cup. Set aside. In mixer, cream butter and sugar until light and fluffy. Mix in lemon zest. Add eggs, one at a time, beating after each addition. Scrape sides of the bowl.Add one-third of the dry ingredients and mix. Mix in half of the milk mixture. Repeat with flour, milk, and flour. Pour batter into loaf pans. Bake for 45-60 minutes until a toothpick comes out clean. Watch tops so they don't burn. Cool cakes in pan, on racks.
In a small saucepan, combine the sugar and lemon juice. Cook over low heat, whisking occasionally, until the sugar dissolves. Remove cakes from pans and set them on a cooling rack over a baking sheet (to collect any dripping syrup). With a wooden skewer, poke the cake all over and spoon on syrup. Allow the cakes to cool completely.