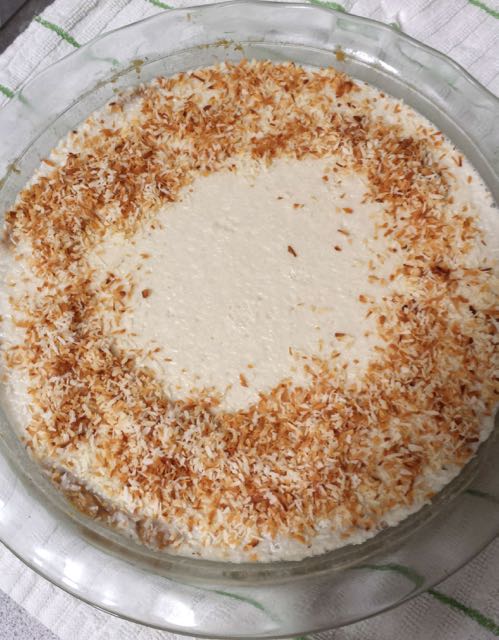 Crust
1 cup tahini
1 cup GF oat flour (I make my own using my oats in a blender)
3 tablespoons golden flax seeds
½ cup raw organic honey
1 teaspoon cinnamon
½ teaspoon sea salt
1 tablespoon softened extra virgin coconut oil
Grease pie dish with coconut oil. Preheat oven to 350 degrees. Add all ingredients – stir or mix until ingredients form a ball. I use my hands to press the dough into the pie dish. The sides will slump a bit – no worries! Use fork to prick the crust several times. Bake 12 – 15 minutes. Cool on rack.
Filling:
In medium sauce pan:
2 1/4 cups unflavored coconut milk
¼ cup agave nectar
3 tablespoons softened extra virgin olive oil
1 teaspoon vanilla extract
½ teaspoon agar agar powder
At the side:
1 cup shredded unsweetened coconut
½ cup shredded unsweetened coconut (for browning under broiler)
Bring ingredients in pan to a slow boil, stirring constantly with a wire wisk. Once liquid is at a full, rolling boil, cook 2 minutes, continuing to stir. Take off burner and stir in 1 cup coconut. Pour into pie crust. Cool in fridge. The agar agar thickens the filling while chilling for a few hours or overnight.  In shallow baking pan sprinkle ½ cup coconut. Broil, watching closely, since it burns quickly. Place browned coconut on top of pie.
Enjoy!