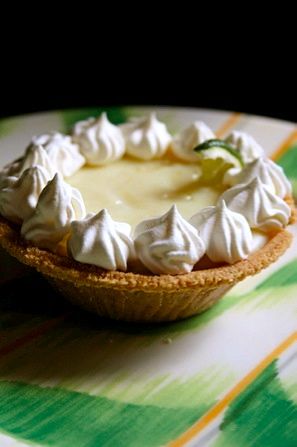 1 teaspoon fresh lime zest
1/4 cup lime juice
1-1/2 cups sour cream
1 14-ounce can sweetened condensed milk
1 egg
1 pre-baked gluten-free pie crust (see Tasty Pie Crust recipe)
1/2 cup whipped cream or whipped topping
Preheat oven to 325 degrees. Grate lime rind on a fine grater and set aside. Squeeze  juice from the same lime and pour into liquid measuring cup. Add enough bottled lime juice to equal 1/4 cup of juice. Set aside. In small mixer combine sour cream and sweetened condensed milk. Mix until smooth. Add egg and mix. Add lime juice and zest. Mix well. Pour lime batter into pie shell. Place pie on cookie sheet, cover crust with aluminum foil to prevent burning, and place in oven. Bake 25-30 minutes or until set. Cool completely. Place paper towel directly on top of pie and cover pie with plastic wrap. Refrigerate overnight. Uncover pie and top with whipped topping. Place in pie keeper and store in refrigerator until ready to use. Makes 12 servings.
Serving suggestion: Garnish with whipped topping, add sliced limes and maraschino cherries.
For homemade whipped cream: In mixing bowl add 1 pint whipping cream, 1/3 cup sugar, and 1 tsp vanilla. Mix on slow speed for 2 minutes. Whip on high speed until stiff peaks are formed.