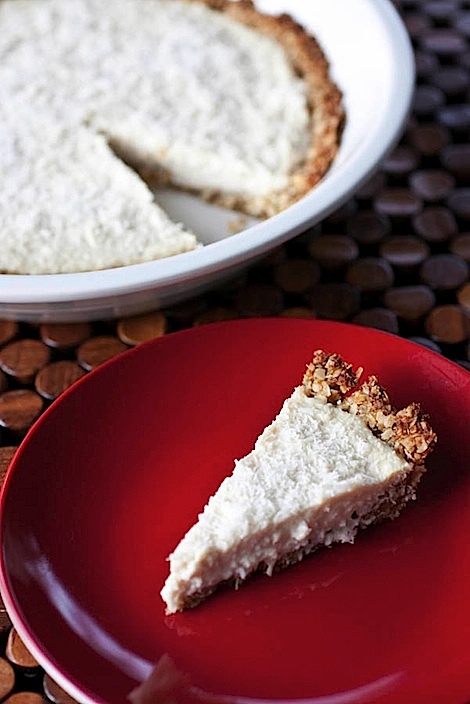 For pie crust see Golden Cashew Pie Crust (Vegan)

Coconut Cream Pie Filling:
½ cup raw cashews, soaked in water for at least 2 hours or overnight
1 13-ounce can coconut milk (room temperature)
¾ cup unsweetened almond milk
½ teaspoon agar agar powder (I bought mine on Amazon.com)
2/3 cup sugar (or the equivalent of sugar free substitute)
3 Tablespoons extra virgin coconut oil (soft or melted)
1 ½ cups shredded unsweetened coconut
1 teaspoon vanilla extract
1 teaspoon coconut extract
Drain the cashews and place them in a blender. Blend with the coconut milk until totally smooth, scraping down the sides occasionally. This can take up to 5 minutes but give your blender a break every minute or so, and check frequently that the mixture feels smooth and not grainy.
Stir together the the milk, agar agar, and sugar in a small pot.
Bring mixture to a boil, stirring pretty consistently. Once boiling, lower the heat so that you're just getting small bubbles. Let cook for about 5 minutes then add the coconut oil and mix until melted.
With the blender running, stream the hot mixture in until thoroughly blended, then add the extracts and pulse a few times to combine. Stir in the shredded coconut, but don't blend it. Just mix it with a spatula. It's important that the mixture goes in hot and is poured into the crust immediately, to prevent it from setting up before it's in the pie.
Transfer mixture to the prepared pie crust, being careful not to overfill, and refrigerate until set, at least 5 hours. Better if chilled overnight. The filling is very thin at first but it will thicken as it sets. Top with coconut flakes if desired before serving.