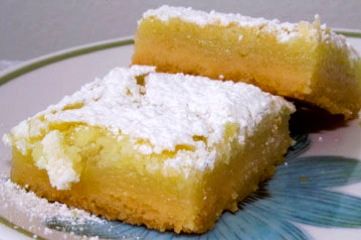 So rich and lemony! To die for!!
I originally made these sugar-free for my mother-in-law.
I'm including the sugar-free substitutions.
Rich Pastry
1/2 cup white rice flour
1/4 cup potato flour (any gluten-free flours may be used)
1/3 cup sugar (or 8 packets Equal)
2-1/4 teaspoons cornstarch
1/8 teaspoon salt
1/2 teaspoon guar gum
6 tablespoons butter, cold, cut into pieces
3/4 teaspoon vanilla
1 teaspoon grated lemon rind
Lemon Filling
2 eggs
1 cup sugar (or 18 packets Equal)
1/4 cup plus 2 tablespoons lemon juice
4 tablespoons butter, melted then cooled
1 tablespoon grated lemon rind
Combine dry ingredients and mix well. Cut in butter with pastry cutter until mixture resembles course crumbs. Sprinkle with vanilla and lemon rind. Mix with hands to form dough. Press into 8 x 8 baking pan, forming dough evenly with a 1/4 inch side. Bake at 350 for 10 minutes. Let cool on a wire rack.
Beat eggs and sugar until well blended. Add lemon, butter, and lemon rind. Poor over pastry and bake at 350 for 15 to 18 minutes until filling is set. Cool on a wire rack.
Sprinkle powdered sugar over the top and cut into squares. (Leave the powdered sugar off for sugar-free lemon squares.)