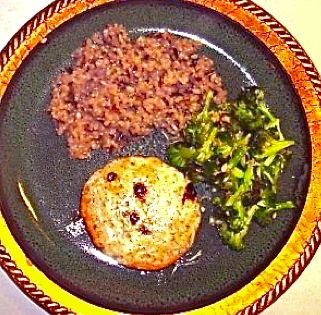 This recipe can be made with salmon fillets. I have had a hard time finding them without gluten added. I do like buying frozen, and that is probably why. You can buy fresh fillets from the meat counter. I buy my salmon patties at Costco in a 12-pack in the frozen foods section. They are delicious! The lemon in this recipe is used for both the zest for the broccoli and the juice for the topping for salmon patties. A hint for juicing a lemon: first microwave lemon about 15 seconds, then cut in half and squeeze.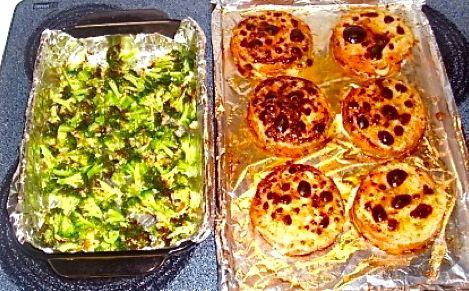 1 bunch fresh broccoli, stems removed and cut into small florets
3 tablespoons olive oil
3 cloves garlic, peeled and diced
1/2 teaspoon salt
1/4 teaspoon pepper
6 salmon patties or fillets
1/2 cup light Kraft mayonnaise
juice of one lemon, hand squeezed
1/2 teaspoon celery salt
1 teaspoon dill weed
2 tablespoons honey roasted peanuts, chopped
zest of one lemon
Preheat oven to broil. Toss broccoli, olive oil, pepper, and garlic, and place on a foil-covered baking dish. Cover a separate baking sheet with foil and spray with oil, and place patties or fillets on baking sheet.
In small bowl, whisk together mayonnaise, lemon, celery salt, and dill weed. Set aside. Place both salmon and broccoli in the oven, and broil for 5 minutes. Remove both pans from oven. Turn each patty or fillet over. Add the mayo mix to tops of salmon and spread to cover.
Add the peanuts and zest to the broccoli and toss. Place both dishes back in oven and broil an additional 5 minutes. The tops of salmon should have some browned bubbles. Broccoli should be lightly browned. Serve with rice.