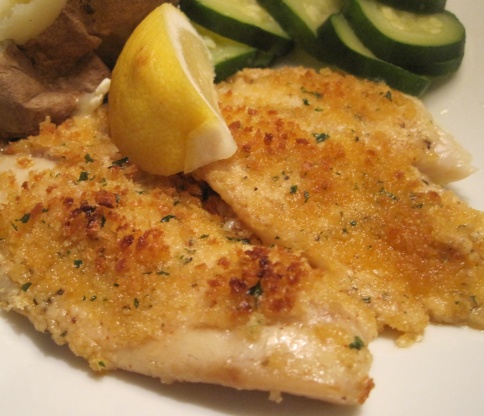 1/2 cup canned Parmesan cheese
1/4 cup butter, softened
3 Tbsp Kraft mayonnaise
2 Tbsp lemon juice
1/4 tsp dried basil
1/4 tsp black pepper
1/8 tsp onion salt
1/8 tsp celery salt
2 lbs Tilapia fillets
Line a pan with foil and spray with cooking spray. In a small bowl, mix Parmesan cheese, butter, mayonnaise, and lemon juice. Add seasonings. Mix well, and set aside.
Arrange fillets in a single layer. Broil a few inches from the heat for 3 minutes. Flip fillets and broil for 3 more minutes. Turn fillets again and cover the tops only with the cheese mixture. Broil for two more minutes, or until browned.
So delicious!