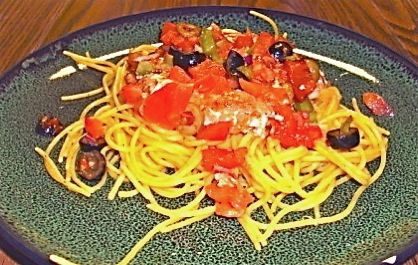 When using gluten free angel hair pasta (or gluten free spaghetti) I use two packages, since it doesn't plump up like wheat pasta. I use corn, quinoa or Jerusalem artichoke pasta, since rice pasta disintegrates too easily.
Salmon
4-6 salmon fillets or patties
1/2 teaspoon salt, divided
1/2 cup olive oil
2 tablespoons balsamic vinegar
1 tablespoon Dijon mustard
1 tablespoon honey
3 Roma tomatoes, chopped
1/4 cup chopped red onion
1/4 cup chopped green pepper
2 tablespoons chopped ripe olives
2 tablespoons chopped green olives
Pasta
2 packages gluten free angel hair pasta
2 garlic cloves, minced
2 tablespoons olive oil
1 tablespoon grated lemon peel
1/2 teaspoon ground oregano
1/2 teaspoon salt
1/2 teaspoon pepper
Heat oven to 425 degrees. Spray baking pan with oil. Place salmon in pan and sprinkle with 1/4 teaspoon salt. In small bowl, whisk together oil, vinegar, mustard and honey. Spoon 4 tablespoons of this mixture over salmon. In large bowl combine tomatoes, onion, peppers, olives and remaining mixture. Stir and spoon over salmon. Bake 12-15 minutes.
Cook pasta as directed, boiling for 7 minutes. Drain. In large skillet sauté garlic about 1 minute. Stir in the pasta and remaining ingredients and toss to coat.
Serve salmon over pasta.