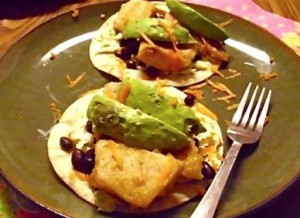 ¼ cup millet flour (you may use any gluten-free flour)
1 teaspoon chili powder
1/2 teaspoon cummin
½ teaspoon salt
½ teaspoon pepper
¼ teaspoon garlic powder
4 6-oz tilapia filets
3 tablespoon olive oil
8 corn tortillas
2 cups coleslaw mix
2 tablespoon mayonnaise
1 tablespoon fresh lime juice
1 teaspoon lime zest
1 cup canned black beans, drained and rinsed
Avocado, sliced
In large baggie, combine flour, chili powder, salt, pepper, and garlic powder. Add tilapia filets one at a time and shake to coat.
In a large frying pan, heat olive oil over medium heat. Cook filets for 5 – 6 minutes on each side, until fish flakes with a fork. Meanwhile, place tortillas on sprayed baking sheet and spray them lightly with olive oil spray. Heat broiler. On top rack, broil tortillas 2 minutes; turn and broil an additional minute.
In a small bowl, toss the coleslaw mix, mayonnaise, lime juice and lime zest. Cut fish into small pieces. Layer each tostada with coleslaw, black beans, fish and avocado.