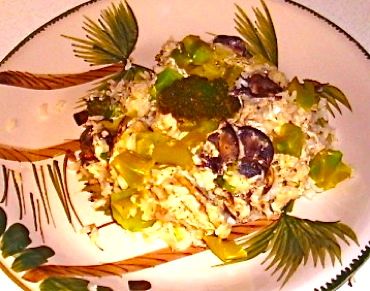 This casserole is a good replacement for casseroles that use cream soups!
1 quart chicken broth
1 tablespoon olive oil
2 cups white rice
2 cans Albacore tuna, drained (I use Kirkland brand, sold at Costco)
16 ounces sliced mushrooms
1 small onion, chopped
1 cup mayonnaise (I use Kraft Olive Oil mayonnaise)
1 teaspoon dill weed
1 teaspoon celery salt
1 teaspoon salt
1/2 teaspoon pepper
16 ounce package broccoli or 1 head of fresh broccoli, chopped
1 lemon, juiced or 2 tablespoons lemon juice
Bring broth to a boil in a medium saucepan. Add oil and rice; stir. Cover and simmer on medium-low for 25 minutes.
Heat oven to 375 degrees. In bowl mix together tuna, mushrooms, onion, mayonnaise, dill, celery salt, salt, and pepper. When rice is cooked, spoon into a baking pan. Spread the tuna mixture over the rice, then top with broccoli. Sprinkle lemon over the top. Spray inside of foil with oil and cover pan. Cook for 30 minutes.