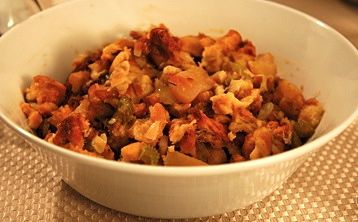 1 loaf gluten-free, casein-free juice bread
1/2 cup olive oil
1 cup chopped onion
1 cup chopped celery
1 cup chopped green apple
1-1/2 teaspoon poultry seasoning (to taste)
1-1/2 teaspoons salt (to taste)
1/4 teaspoon pepper
1-1/2 to 2 cups chicken broth
1 eggs, beaten
Prepare loaf of bread ahead of time by cutting into slices, and then cubing. Set cubes on cookie baking sheet and bake at 300 degrees for 1/2 hour to toast bread.
Put olive oil in skillet. Cook onion and celery in oil until soft, stirring frequently. Add apples and spoon over dried bread cubes in a very large mixing bowl. Season with poultry seasoning, salt, and pepper. Pour just enough broth in to moisten. Let broth soak into the bread before adding more, otherwise, your stuffing will be soggy. Taste to adjust seasonings. Carefully mix in egg.
Transfer mixture to crock pot which has been sprayed with cooking spray. Cook on high for 30 minutes then reduce heat to low. Cook 5-8 hours. After cooking time add more broth if necessary.