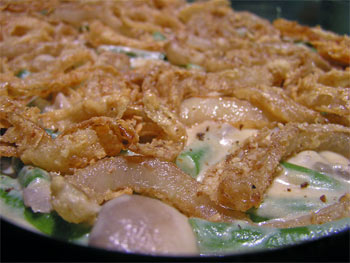 French Onions
2-3 large onions
2 cups milk, in bowl for soaking onions
2 teaspoons salt
1 teaspoon pepper
1/2 soy flour
1/2 rice flour
1/2 tapioca flour (any gluten-free flours may be used)
oil for frying
Measure flours, salt and pepper and put in a large baggie. Slice onions into rings. Heat about one inch of oil. Oil is hot enough when a flick of water makes it sizzle. Soak onion rings in milk for a few minutes, a few at a time. Shake the soaked onions in the baggie of flour to get a good coating. Place in oil and brown. When onions float, turn over. Lay them on paper towel to drain.
Cream of Mushroom Soup
olive oil
1 pound button mushrooms (or any kind)
6 tablespoons butter
2 cups bouillon broth (2 heaping teaspoons bouillon with 2 cups hot water)
2 cups milk
6 tablespoons gluten-free flour (rice, soy or tapioca)
1 teaspoon dry mustard
less than 1/8 teaspoon cayenne pepper
1/2 teaspoon garlic powder
1-½ teaspoon salt
1 teaspoon pepper
Casserole
1-1/2 pounds fresh green beans, cleaned and cut into 2 inch pieces
OR 2 cans green beans
1 tablespoon gluten-free soy sauce
Prepare French onions. Then sauté mushrooms in olive oil and set aside. Melt butter in a large sauce pan. Once the butter starts to bubble, add flour, then add spices. Let bubble for a few minutes. Add milk and bouillon broth. Whisk until sauce thickens. Add the mushrooms.
Cook fresh green beans for 4-5 minutes until bright green. Strain the water from the beans. Once they are done, put the green beans (or canned beans) in large casserole dish. Mix in the soup and soy sauce. Top with French Fried Onions. Bake for about 35 minutes on 350 degrees or until bubbly.