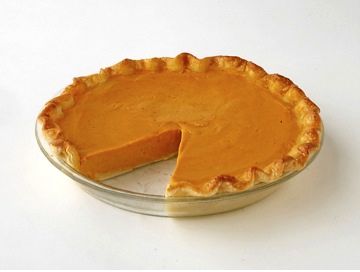 Pie Crust
1 cup rice flour
1/2 cup corn starch
1/2 cup garbanzo bean flour
1/2 tablespoon guar gum
1 teaspoon baking powder
1 teaspoon salt
1/2 cup shortening
1 egg, beaten
1/2 tablespoon cider vinegar
1/2 cup cold water
Preheat oven to 400 degrees. Whisk together flours, guar gum, baking powder, salt and shortening, until dough forms even balls. Make a hole in the center and add egg, vinegar and cold water. Knead about 2 minutes. Press dough evenly throughout pie dish, forming a ridge on the sides. Use thumb and fingers to make scallops on the edges. Bake for 15 minutes. (Yes, this is unusual for a pie recipe, but it works well for a gluten-free pie crust.) Remove from oven, and set oven to 325 degrees.
Pumpkin Filling
1-1/2 cups pumpkin filling
1/2 cup brown sugar
2/3 cup heavy cream
7 tablespoons sweetened condensed milk
6-1/2 tablespoons evaporated milk
1/4 teaspoon vanilla extract
1-1/2 teaspoon ginger
1 teaspoon cinnamon
1 teaspoon nutmeg
pinch ground cloves
pinch salt
2 eggs
1 egg yolk
In a medium saucepan, mix together the pumpkin and sugar. Cook over medium heat, stirring frequently, until reduced and thick, about 15 to 20 minutes. Remove from the heat and whisk in the cream, milks, vanilla, ginger, cinnamon, nutmeg, clove, salt, eggs, and yolk. Pour the filling into the pie shell. Cover edges with aluminum foil and bake until set, about 45 to 55 minutes. Cool and serve.