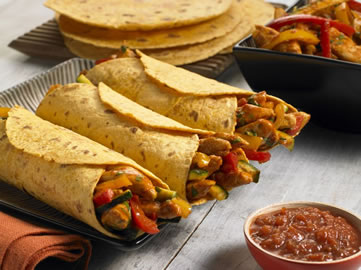 2 chicken breasts, cooked and shredded
2 Tbsp lime juice
1 medium onion, chopped
1 red pepper, sliced
2 tsp chili powder
1 tsp salt
1/8 tsp cumin
2 Tbsp olive oil
4 oz Monterey Jack cheese with jalapeno peppers
2 Tbsp chopped dry cilantro
corn tortillas
In large bowl, toss shredded cooked chicken with lime juice. In large frying pan, sauté onion, red pepper, chili powder, cumin, and salt in oil for 3 minutes. Add chicken. Cook 2 minutes, stirring occasionally. Stir in Monterey Jack cheese and cilantro until cheese is melted. Use sprayed baking sheet to broil corn tortillas, 2 minutes each side.