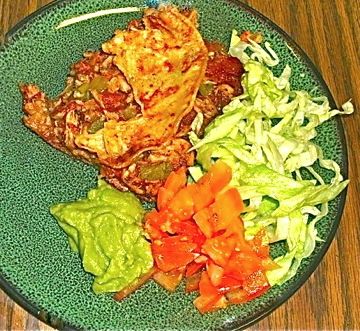 This is a delicious version of Chicken Enchiladas.
3 tablespoons olive oil
4 boneless, skinless chicken thighs
1/2 cup cornstarch
1 tablespoon chili powder
1/2 tablespoon cumin
1 teaspoon garlic salt
1 teaspoon paprika
1 teaspoon salt
1/2 teaspoon oregano
1 (29 ounce) can diced tomatoes
8 corn tortillas
1 (4 ounce) can diced green chiles
2 cups shredded lettuce
2 tomatoes, diced
4 scallions, diced
guacamole (I use Wholly Guacamole-brand guacamole, found in the produce section)
In frying pan with lid, heat oil on high heat. Cut chicken into strips and place in pan. Cover and cook on medium heat, stirring often. When done, shred chicken using two forks. Do not drain chicken juices.
Prepare enchilada mix by adding cornstarch, chili powder, cumin, garlic salt, paprika, salt and oregano in small bowl. Whisk together. In flat dish (cake pan or big pie dish) pour diced tomatoes. Stir in seasoning mix. Push each tortilla into tomatoes to coat and soak for 5 minutes.
Take tortillas from pan. Add tomatoes and green chiles to shredded chicken and juice. Spray baking pan with oil. Place two tortillas side-by-side. Spoon 1/3 chicken into pan and spread to cover tortillas evenly. Place two more tortillas. Repeat with 1/3 chicken. Repeat with tortillas and chicken. Top with two remaining tortillas. Spray the inside of a sheet of aluminum foil with oil. Cover pan and bake at 375 degrees for 30 minutes. Remove foil and bake 10 more minutes. Cut enchiladas like a casserole. Serve with lettuce, tomatoes, onion, and guacamole.