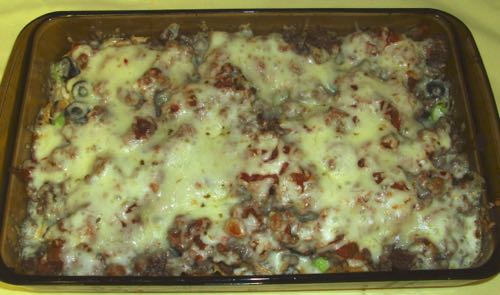 1/2 lb ground beef
1/2 lb regular sausage
2 cups Fritos
2 green onions, chopped
2.25 can sliced olives
1 cup salsa
1/2 tsp chili powder
1/2 oz shredded pepper jack cheese
Preheat oven to 400 degrees. Fry ground beef and sausage in large frying pan until browned. In baking dish layer Fritos, green onion and olives. Drain liquid from meat. Sprinkle meat over dish. In small bowl mix salsa and chili powder. Spoon into dish. Cover with cheese and bake 10 minutes.
* If you'd like this recipe mild, leave out the chili powder and use regular cheddar cheese.